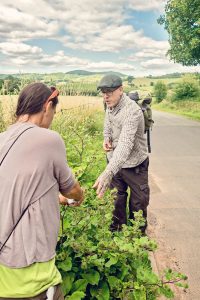 My name is Stuart Cook.  I initially set up Forage UK with the aim to share my passion for foraging and to give people the knowledge, skills and confidence to venture out into the green spaces of the UK and sustainably source, identify and pick from the abundance of edible plants, trees and fungi.  These foraged ingredients could then be made into a vast array of gourmet high-class dishes, fit for fine dining restaurants using recipes that I have created and collected over my many years of gathering.
I believe that this knowledge is beneficial not only for incorporating healthy, tasty free food into our diets, but also many wild plants are bursting with so much more nutrients and vitamins which, intensively farmed fruit and vegetables lack.  I feel that today we have become accustomed to convenience and processed foods which often are full of preservatives, high salts and sugars, often covered in plastic and have considerably less nutrients than their wild relatives.
I believe foraging is a therapeutic lost skill, which enables people to slow down, appreciate, see and reconnect with nature within a busy, stressful world we live in.  I think it can give people a sense of well being, and helps individuals rediscover a value and respect for nature.  I believe that foraging and gathering reconnects us with our ancestors and I like the idea of keeping our ancestors skills and knowledge alive, those skills are now sadly being lost.
I aim to show people that eating wild edibles does not have to be scary, but in fact can be the most pleasurable, rewarding and enjoyable experience, which can enhance any walk and become part of everyday life.  There are many safety issues surrounding the consumption of wild plants and caution is strongly advised.  However, with proper tuition, research and time, this is something we can all learn.